Masaya Homes' flat-pack prefabs are made of teak sourced from its founder's reforestation project in Nicaragua.
Welcome to Prefab Profiles, an ongoing series of interviews with people transforming how we build houses. From prefab tiny houses and modular cabin kits to entire homes ready to ship, their projects represent some of the best ideas in the industry. Do you know a prefab brand that should be on our radar? Get in touch!

Aram Terry and Olin Cohan met a little more than a decade before they decided to go into business together. They were living in Nicaragua as part of the Peace Corps, and bonded over the unique experience they shared away from home.

"I'm from Sonoma County in Northern California, and Aram is from Nashville, and we both had never seen anything like it," Cohan says. "We were struck by the people, the lush nature, the amazing landscapes, and the vibrant culture."
They also witnessed firsthand the complexity of deforestation in the country. "The reality is that people there are creating cattle farms just to make ends meet," Cohan says. "Burning down the forest allows them to create the land they need to farm. If creating forests would put food on the table, then everyone would plant trees."
To help reforest, Terry purchased land in Nicaragua and began planting trees. Later, he and Cohan started making furniture using wood harvested from the property, but realized it was creating waste. "We teamed up again because we wanted to make another product to utilize the entire tree," Cohan says.
In 2021, Terry and Cohan launched Masaya Homes, a prefab ADU builder with models ranging from 120 square feet to 1,200 that utilizes as much wood of a tree as possible. "We wanted to improve every aspect of creating a home—not just the materials and construction but the product as a whole," Cohan says. These structures are made from solid teak that's grown on their farm, where they employ hundreds of workers to sustainably cultivate trees into building materials.
Below, Terry and Cohan share more about Masaya's prefabs, the company's production methods, and its sustainable-design ethos.
What's the most exciting project you've realized to date?
So far, it has to be Scott and Suzanne's project. They live in Marin, California, and came to us during the height of the pandemic because they needed additional space for an aging parent. They did not want to move them into assisted living, and they needed a solution fast. We were still in the process of developing our bigger living units, so we designed a custom 300-square-foot dwelling linking two M1 Studios together.
Scott and Suzanne are mindful of the importance of focusing their purchasing power on companies and products that have high social and environmental impact. They did not want to design and build conventionally, knowing that not only would it take too long, but would also create construction waste. They also didn't want to sacrifice design integrity and quality with a speedy process, either, and we met their goals on timing and environmental impact.
We believe that true sustainability with a product is founded around reforestation efforts, design that blends in with the natural environment, and a non-invasive installation that is completed swiftly and virtually waste-free.
What does your base model cost and what does that pricing include?
The M1 Studio starts at $49,500, fully installed. Complete living units like the M3 and up, start at $179,000. These units include all the base necessities, like a fully outfitted kitchen, bathroom, and storage space.
What qualities make your prefab stand apart from the rest?
Material and durability is the simple answer. Each unit is handcrafted from reforested teak, which is naturally weathered and pest-resistant. The wood is grown in our own forests, which are reforestation projects, and we preserve around 40 percent of old growth for flora and fauna to thrive. We offer a product at the same price as conventional construction but it's made entirely of a superior material, with furniture-grade finishes.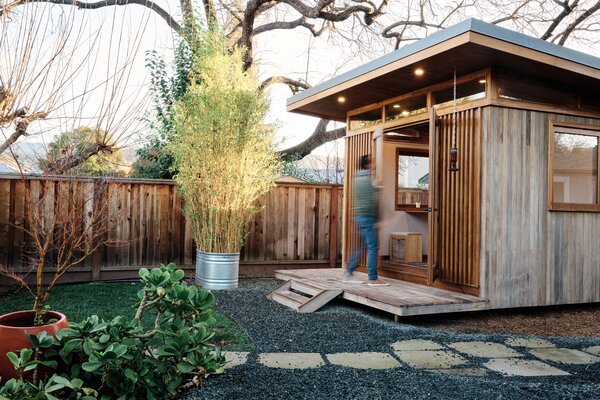 See the full story on Dwell.com: This California ADU Builder Minimizes Waste by Taking a Whole-Tree Approach
Related stories:
Self-Care Can Start in Your Own Backyard With These $5K Prefab Saunas
Detroit's First 3D-Printed Home Was Made by a Robot That Used to Build Cars
This Space-Age Pod Wants to Be Your New ADU, Office, or Off-Grid Micro-Home
------------
Read More
By: Kelly Dawson
Title: This California ADU Builder Minimizes Waste by Taking a Whole-Tree Approach
Sourced From: www.dwell.com/article/masaya-homes-backyard-house-prefab-adu-sustainable-design-bff0b900
Published Date: Fri, 22 Sep 2023 02:45:30 GMT